2024 QB Jackson Jensen is being compared to Tom Brady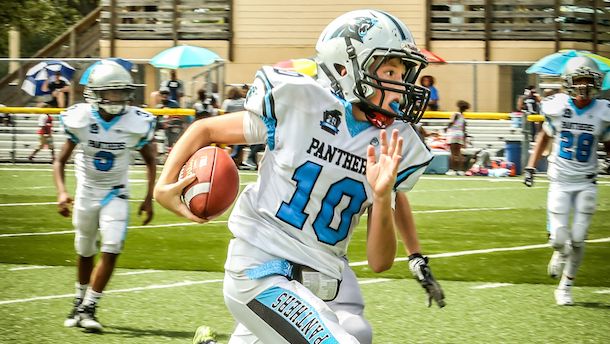 Jackson Jensen is one of the best players from the Tampa, FL area in the Class of 2024.
The 5-foot-4, 110-pound Jensen, who attends Kids Community College, is a pinpoint quarterback for the Progress Village Panthers organization.
Jensen has also played for the East Bay Bucs during his youth football career.
Jensen has earned many achievements so far in his time on the gridiron. Jensen won MVP at the OD camp in Tampa and was invited to the All American Bowl. Jensen was also invited and competed in the All-America game in Miami this past July.
Jensen is extremely grateful and humbled for the opportunity to showcase his skills amongst the best athletes in the nation.
Jensen gleaned many vital techniques that he says will help him along his journey to greatness on the gridiron.
"That motivates me to get better by knowing I can perform at a higher level to push me to get better as I get older," Jensen said. "The experience was amazing. I had all these great coaches having me do drills I've never done before. Pushing me to be the best I can be. I learned so much from these coaches."
Jensen recalls the football memory that he's most fondest of, which came in a victory vs. the Valrico Ram when he was on the East Bay Bucs.
My favorite memory was my first rushing touchdown. This was my favorite memory because the run was 50 yards and the announcer was funny when I was running down the sideline," Jensen said. "The announcer was saying "There goes that man! Can he go all the way? 20,10,5 touchdown!!"
Jensen enjoys everything about the game of football but breaks down a few of his favorite things.
"What I love the most is having fun, throwing touchdowns, and getting hype before a game," Jensen said. "Also leading my team."
Jensen has learned many vital lessons as a football player that he applies towards his everyday life.
"Football has taught me how to be a leader, learning to work together, and how hard work and dedication pay off," Jensen said.
Brian Hollister is in his first year working with Jensen on the Progress Village Panthers midget level.
Hollister explains the best parts of Jensen's game under center.
"He has great leadership, good arm strength, the ability to learn new things quickly and great toughness. Jackson is an exemplary leader. He's the first to show up, dependable and demonstrates quality leadership through his actions and his capability to hold others accountable. His arm strength is among the highest for his age. It is obvious that he's reading outside of our regularly scheduled practices," Hollister said. "Jackson has been exposed to a more aggressive playbook this year, with many more passing opportunities than before with multiple reads involved. He's shown that he is able to adapt and play great football.He's tough as nails. I recall a scrimmage where he trucked a defender. The hit got everyone excited and inspired. He's that QB that begs to get into every hitting drill."
As the quarterback, Jensen takes his leadership role with the utmost respect. A positive attitude is always displayed when interacting with teammates.
"I try to be a good teammate by telling my teammates it's okay if someone does something wrong and they get down. Also motivating them to stay focused and play hard," Jensen said. "The best advice I've given my teammates is to never give up in a game no matter what and to keep pushing."
Jensen is appreciative of the input he receives from his coaches on and off the field.
"My coaches help me become a better player by helping me read defenses in certain situations, and developing my skills as a QB. They help me become a better person by telling me there mistakes growing up and how to prevent that if I was in that situation," Jensen said. "The best advice they give me is to play with a short memory because if you don't play with a short memory you'll be stuck on your mistakes in Week 1 rather than focusing on Week 2."
Hollister shares some of the big plays Jensen has made as quarterback of the Panthers.
"I'd have to say one of my favorites was a time we ran our Y cross play. It was beautiful. Such a sweet fake and perfect throw on the run. A pure thing of beauty. It was against the Bears in a win," Hollister said.
"There was another play against the Bills in another win. The No. 1 receiver was covered and was flushed from the pocket. As he escaped the rush, he continue to scan the field looking for receivers. He ended having to pull the ball and run but you me it demonstrated his intelligence as a QB to not force the play."
Jensen patterns his style of play after this Super Bowl champion quarterback.
"I look up to and follow Aaron Rodgers because even when a game is tight he manages to pull out a win," Jensen said. "He has pulled off some amazing passes."
Meanwhile, Hollister sees plenty of the same skill set in Jensen compared to this bonafide first ballot Hall of Fame quarterback.
"I'd have to say Tom Brady. Jackson has his type of body and understanding of his capability," Hollister said. He's also tough enough to escape defenders and get up field when needed. He's not shy to step up and all for chance to make a play."
Jensen lists his favorite subject in school as math "because numbers come easy to me."
Hollister outlines the next area of improvement that will help Jensen's game.
"Overall, I'd like to see Jackson continue to work on his speed," Hollister said. "As all other football players, he would benefit from joining a local track club. He is still young and continuing his ability to go deeper in reads. We talk about pre-snap reads through identification of coverage shell and defender alignments. We try to use group periods and team reps to give him repetitions to hone his skills."
Jensen's dream college of attending and playing at is Florida State University.
"It's a D1 college, has a great football and education program and not too far away from home," Jensen said.
Hollister sees no reason why Jensen can't one day become the next great Seminole quarterback.
"He can be an FBS quarterback with no problem," Hollister said. "He'll grow into a big body and that with his continued growth in reading coverages and making quick decisions will give him the skills college recruiters are looking for. He's an extremely smart young man."