2019 3-star ATH Maurice Wilmer Excited With Early Offers
2019 3-star ATH Maurice Wilmer Excited With Early Offers
Mountain View (Calif.) St. Francis 2019 athlete Maurice Wilmer has the opportunity to play two sports in college...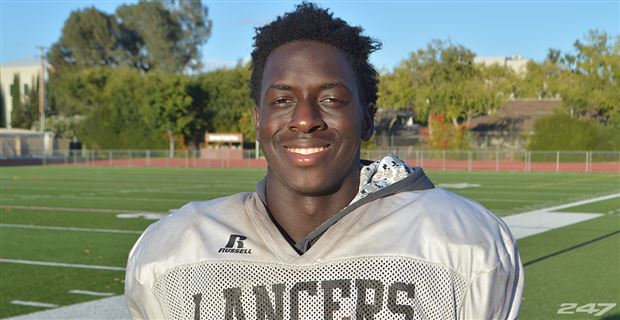 Maurice Wilmer (Photo: Brandon Huffman, Scout.com)
Mountain View (Calif.) St. Francis 2019 athlete Maurice Wilmer (6-1, 190), has two offers, one for football and one for baseball.
And both come from nearby San Jose State.
"It felt really good to get the offer from San Jose State," said Wilmer. "It was a school I had been talking to for the longest. I was shocked with the baseball offer and shocked when I got the football offer."
Wilmer said he thought the football one would come first, but the Spartan baseball team beat them to the punch.
"A lot of schools for baseball, they don't recruit my position as much, so I was shocked to get that," said Wilmer. "They had seen me at a USA Baseball tryout."
Football, though, is where Wilmer said his focus will likely be in college.
"I would love to do both sports, it has been a dream of mine," said Wilmer. "My freshman year was my first year of football and I didn't know if I'd like it but then I decided I wanted to be like Bo Jackson. But I know football will probably give me more opportunities."
Aside from the Spartans, Wilmer is hearing from Oregon State, Washington State, California, Colorado, Washington, California, Stanford and UCLA.
He camped with UCLA in the summer and Stanford has had him on campus numerous times.
"I went to UCLA's camp and I talk a lot with Coach Angus (McClure)," said Wilmer, who had McClure at his game against Valley Christian in late September. "I loved the campus and the coaches there."
Stanford is close to Wilmer's home and he's spent ample time there.
"Coach (Garrett) Wolfe and Coach (Duane) Akina are who I talk with mostly at Stanford, but I've met all the coaches when I've been over there," said Wilmer. "I love the campus and the football program and how it is close to home."
Wilmer plays both receiver and defensive back and said his recruitment is tilted towards both sides, with more of an emphasis on defense.
"A lot of schools are recruiting me as an athlete specifically but also as a DB," said Wilmer. "I'm cool with either one. I'd say DB is my preference, corner or safety, but I could play receiver."
This offseason, Wilmer said he plans to see schools like Colorado, Washington State and Oregon State.
Academically, he has a 3.4 and will take the SAT in the spring.