William Barnes honored to be U.S. Army All-American
William Barnes honored to be U.S. Army All-American
Sunshine State offensive linemen excited to participate in the U.S. Army All-American Bowl.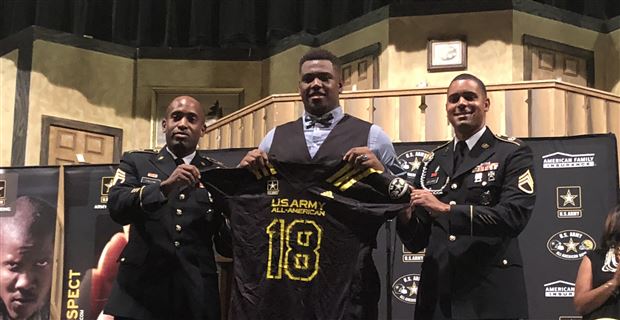 APOPKA, Fla. — Four-star offensive lineman William Barnes was officially invited to the U.S. Army All-American Bowl on Tuesday during a jersey ceremony at his high school in front of friends and family. The Apopka (Fla.) standout is excited to be able to participate in the nation's premiere high school all-star game.
"It's such a great honor, you know," Barnes said. "It's a great feeling, and I know I wouldn't be here without my coaches and my family helping me get here to where I am. Just to have this honor to play in this game I've heard so much about when I was younger is an amazing opportunity."
The game will feature 90 of the nation's top high school football prospects. Barnes is looking forward to testing his talents against other elite recruits.
"Mostly, I'm trying to get better on my game, learn some things, but also making new relationships, meeting new people, just being in a new area and seeing kind of what the college life is like."
There is one player in particular that Barnes is looking forward to facing during East practices throughout the week.
"I like seeing [five-star defensive end] Xavier [Thomas] get after it. Every time I got against him, he definitely makes me better, seeing how fast he is coming around that corner. That's definitely a guy I want to get work in with."
The U.S. Army All-American Bowl will be played January 6 in San Antonio's Alamodome.