A 5-star center committed to play his college ball for the Orego
The No. 3-ranked player in the class of 2018, per 247Sports, made his decision official on the Players' Tribune
Bol's commitment gives the Ducks the top recruiting class in all of college basketball, matching the football program, as Andrew Nemec of the Oregonian noted.
A towering presence at 7'2", Bol solidified himself as the No. 1 center among 2018 recruits thanks to a surprisingly versatile skill set that allowed him to expand his game beyond the paint.
"Bol has a unique skill set for his size," Wake Forest head coach Danny Manning said, per Sports Illustrated's Luke Winn. "He's capable of stepping out on the perimeter and making shots, and his length gives him a chance to do things at the rim that surprise you."
Combine those traits with a 7'8" wingspan and 9'7" standing reach, according to DraftExpress, and Bol has the makings of a potential force at the 5.
In order to reach his ceiling, Bol will have to bulk up.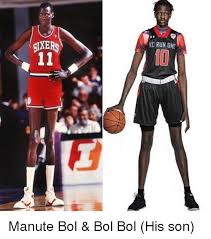 Listed at 225 pounds (247Sports), Bol is a lanky presence who has largely deployed an offensive game predicated on finesse. Moving forward, he'll need to add some mass to his frame in order to bang in the post with some of the college game's more physically imposing bigs.
Even so, the Ducks should be thrilled they were able to land a big of Bol's caliber.
The Mater Dei High School product is a matchup nightmare because of his height alone, and the fact that he can stretch the floor and spot up for threes should make him an invaluable component of head coach Dana Altman's lineup during the 2018-19 season. \