San Pedro must take on No. 1 seed Narbonne
For the first time, the City Section is having an eight-team Open Division for its football playoffs. The school that drew probably the unluckiest seed is San Pedro, which picked up the No. 8 seed on Saturday and must face No. 1 Narbonne for the second time this season.
The Pirates lost to Narbonne 57-7 on Oct. 20 in their Marine League game. If San Pedro had dropped one spot, the Pirates would have been the No. 1 seed for the Division 1 playoffs. Instead, San Fernando is No. 1.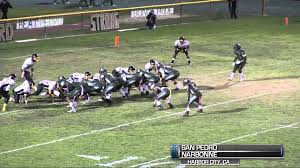 The eight teams were chosen based on CalPreps.com computer rankings, which rely on criteria that include strength of schedule. Four of the eight teams are from the Marine League.
Open Division teams have a bye next week then begin the playoffs Nov. 17. Narbonne and No. 2-seeded Crenshaw are heavily favored to reach the championship game, which will be played either Dec. 1 or Dec. 2 at El Camino College.
The matchups: No. 8 San Pedro at No. 1 Narbonne; No. 7 Banning at No. 2 Crenshaw; No. 6 Venice at No. 3 Carson; No. 5 Birmingham at No. 4 Fairfax.
Narbonne coach Manuel Douglas' main concern will be making sure his players don't take San Pedro lightly. San Pedro gets two weeks to prepare and will have three players back who missed the first meeting because of concussion protocol.
Narbonne has been rolling against City Section competition, getting 76 points Friday night against Gardena.
The creation of the Open Division likely will lead to a more competitive 16-team Division 1 playoff bracket. South Gate is No. 2, Palisades No. 3 and Garfield No. 4. First-round games are Thursday.
The Southern Section will release its playoff brackets in 13 divisions on Sunday. In Division 1, it appears that all six teams from the Trinity League will make it, which could lead to some all-Trinity League matchups in the quarterfinals.
The likely top seeds in Division 1 are Santa Ana Mater Dei, Corona Centennial, Bellflower St. John Bosco and West Hills Chaminade. Gardena Serra's upset win over Long Beach Poly on Friday night also will change the seedings. Serra finished third in the Mission League, and Poly won the Moore League.