NFL Star gets High school team in Trouble...
Lynch is getting this week off from playing for the Oakland Raiders, as he's serving a one-game suspension for this incident with officials during last week's game against the Kansas City Chiefs. This week, he posted a video to Instagram of himself in Raiders gear practicing with Oakland Tech.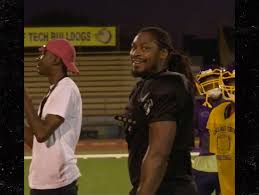 As it turns out, Lynch violated a California Interscholastic Federation (CIF) rule by participating in said practice this week. TMZ was the first to report the rule violation.
According to Raiders Wire, the rule states that "only 9th through 12th-grade students may practice with or compete on a high school team," meaning the 31-year-old running back shouldn't have been allowed by coaching staff to suit up.
According to a statement issued by the Oakland Unified School District and obtained by TMZ, the matter is being investigated. The statement also reads: "Once they [officials of the school district] found out, they and the League Commissioner promptly reminded all OUSD coaches of the bylaws and took appropriate measures."